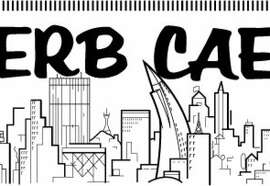 Herb Caen classic: No place like it…
I sit on a park bench at San Francisco's Marina Green on a warm March day looking out over the Bay to see Angel Island, Alcatraz, and the Golden Gate Bridge. The view is so beautiful! As I sit, I reflect on Herb Caen, who I recall often sat at the marina admiring this same view.
I met Mr. Caen in October of 1978 while running down Maiden Lane on my way to a go-see for a product ad at Grimme. I had just left my Corvette with Henry, the doorman at the Hyatt on Union Square and had my house keys in my hand.  While running down the street, looking down,  attempting to put my keys in my purse, I ran smack into a man and almost knocked him over.  On impact, my house keys fell out of my hand dropping down a  street manhole.
I had a tizzy. I screamed my keys, my keys! People started to stop and stare, frustrated, I was going to be late for my go-see.  I was frantically screaming, I need my keys, please help!   The man that I almost knocked down asked for my name, then he said in a calm voice, go to Grimme, you'll get your keys back. I ran off without getting his name or concerning myself with how he would retrieve my keys. I yelled thank you, thank you, with every step!
The lobby of Grimme was full of beautiful people, I bumped a few elbows to quickly check-in.  I felt a flash of Jimmy's disapproval of my being late and rushing about. Not wanting to deal with him, I smiled quickly and took my place in line. During those days, your agent's office was home away from home. You dropped in and sat awhile hoping for a quick booking. So I was chilling while waiting to hear if I was selected for the product ad, when someone handed me a manila envelope, with Zalise written on it. I opened it up to find my house keys. I looked around at the faces in the lobby wondering where did the envelope come from and who was the cool dude that I almost knock over?
A few weeks later standing backstage at a fashion show held at San Francisco's old Kabuki Theatre, I saw Nancy Wilson, a jazz vocalist. I walked over to say hello to Nancy when a man's voice said, hello Zalise, any more manhole capers, or something to that effect.  He did not wait for my response and he directly introduced me to Nancy and then he said, and I'm Herb Caen.  "Oh, oh, I felt a bit foolish no, no more incidents, thank you for retrieving my keys, I said.  We chatted a bit with Nancy, I said goodnight to both and sped off to an after-party with a friend. 
The following day, while at Enrico's for brunch with an acquaintance who knew when and where the-cow-ate-up-the-rhinestone or my google at the time, I asked about Herb Caen.  She perused the restaurant patrons looking to borrow a copy of the San Francisco Chronicle. She then read Herb Caen's column out loud. She explained that he writes about San Francisco's who's who and their goings-on good and bad in the City. From that day on I subscribed to the Chronicle.
Mr. Caen painted such a vibrant picture of the people and the City that he loved.  His descriptive writing and edgy puns could be so funny, but he also had a sharp-edge that you did not want to be at the end of.
I'd often see Mr. Caen and his shabby fedora sitting in his car on a cold foggy day at the Marina admiring Alcatraz or the Golden Gate Bridge views. On warm days he'd sit on a park bench and if I'd happen by, I'd sit down beside him and we'd chat for a few minutes. He took pleasure in knowing that I loved San Francisco, lived in Pacific Heights with my young daughter and had no plans to ever leave the City for bigger and cheaper housing in the East Bay as so many did.  I feel so fortunate to have met him. I was not a prominent socialite, politician, nor anyone famous, but, Mr. Caen always remembered my name and I remember to help others in distress because of how he helped me. I never found out how he retrieved my keys from the manhole, nor did I ever ask. 
Years later, shortly before he left us all, I'd see him at the Marina. He was pensive and in deep thought. He was as mysterious and wonderful as the city he wrote about. I miss him! He loved his Baghdad-By-The-Bay, everyone knew that and we all enjoyed reading his interpretation of the goings-on in the city.
At a gathering in his honor he said: "I hope I go to Heaven, and when I do, I'm going to do what every San Franciscan does when he gets there. He looks around and says, it ain't bad, but it ain't San Francisco".   —Herb Caen 
Be Bold and Bloom, be inspired to help others because someone helped you. Be your SuperSelf, the best you every day, in every way.